10 Crafty Questions With Carey Gustafson
1. What kind of art or crafts do you make? Most of the crafts and projects I work on for "Glass Action" are more fun than traditional: Night lights, jewelry and tie clips, boxes and picture frames, and custom orders.
2. When did you get started – and when did you realize this could be a business? I got started working in stained glass right out of high school and was a designer and fabricator for many years. It's a very, very small market in metro-Detroit and suddenly I found my self an unemployed in 2004. Being a homeowner, I knew it was time to convert that basement room and do my own thing!
3. Where do you get inspiration for your projects? Originally it was out of boredom and from what I'd been working on all those previous years- Birds Of Paradise, Grape clusters, tulips and the like. I wanted to make art for people that have outgrown hanging posters in their bedrooms, but will always love pop culture.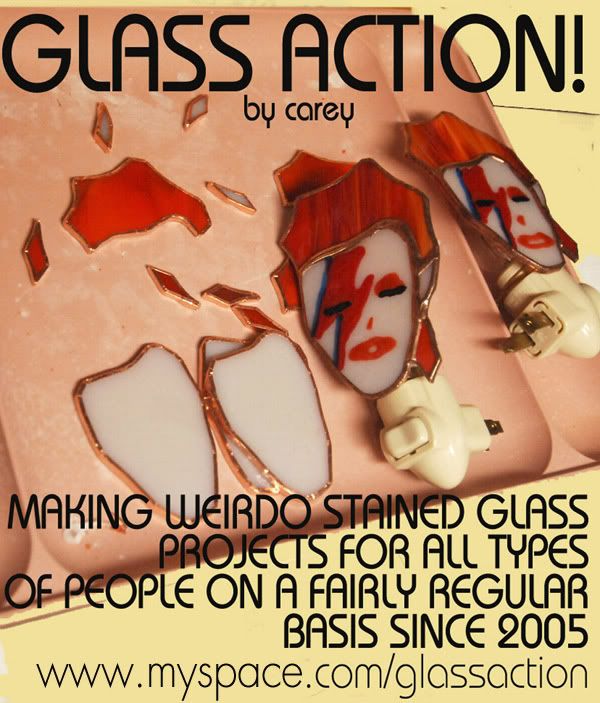 4. What do you like best about selling through more traditional venues (craft fairs)? Walking up to a display and seeing that piece of art that grabs you or makes you smile, and the immediate thought of who it would make the perfect gift for. It's a feeling I love to have and love seeing when a customer approaches my table.
5. Now, what do you like best about selling online? Ugh, it's a mystery to me! Truthfully, I've had way more success through my Myspace page than on esty or ebay. In the latter two I'm a needle in a haystack, and haven't quite learned how to "work it" correctly! People will write me for quotes and send me ideas through Myspace. Sadly, it's slowed down a bit, but it's still the best for directing people to a photo gallery of work (when you don't have a website up yet).
6. How do you price your work? I base it more on what I think people can afford vs. what it's worth in labor. I try to make a lot of one design at the same time which cuts the time down. When I make Michigan necklaces for example, I try to cut a million out, then grind them into shape, etc. Making a few at a time slows me down!
7. What has been your biggest struggle with your business? How did you overcome it? I've had to train myself to keep track of hours, form a budget, and figure out what I spend on supplies. I want to run Glass Action like a lemon aid stand, but my CPA advised me otherwise!
8. What has been the most rewarding part of your business? Having repeat business, great word of mouth and people really seem to like what I make. Not just the "quality," but my ideas and designs. That means so much and keeps me inspired!
9. What is something you wish you knew when you were first starting your business? I would have been serious sooner – I wasn't consistently making and designing as much as I am now. I think I would have a broader range of projects. But there isn't much i'd change. It's been so fun year by year working in glass and doing shows!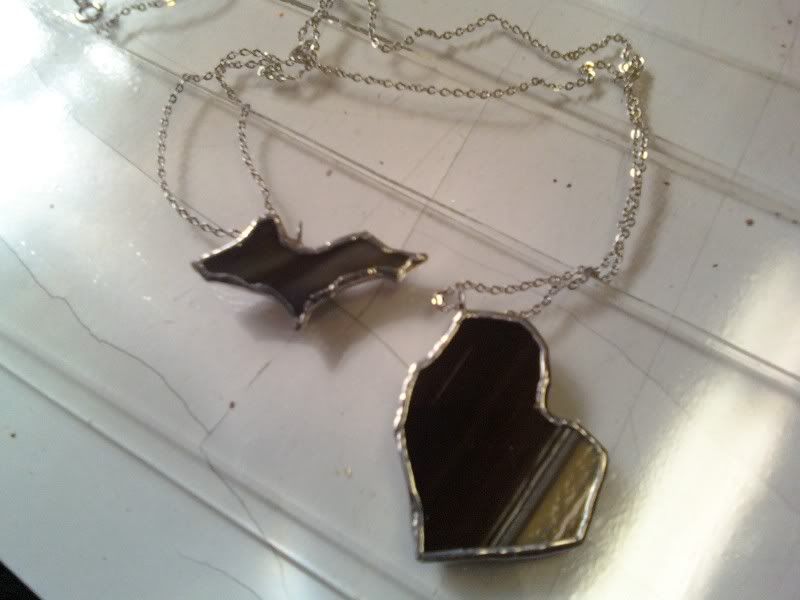 10. Do you mind sharing a business goal that you hope to accomplish with your business? www.glassactionhq.com is the next big challenge. I have a very talented and patient friend that's helping me.  And I'm getting into the "wedding" game! I'm designing custom jewelry for brides and bridesmaids, and reception gifts. That's a direction I'd love to explore more!