Woo Hoo! Here is another fabulous Crafting Heroes Interview hot off the press. I am really loving these interviews. Like you, I am finding them so inspiring and full of great advice on how to run my own business. For those of you who don't yet know, I asked the lovely readers of my other blog to vote for their favourite Crafting Heroes and LOADS of them responded, it was great! There are more wonderful Crafting Heroes interviews in the pipeline and this one is no exception…
This time the I'm featuring the lovely Amy Butler. I think it would be fair to say that for most all of you this amazing lady needs no introduction, but just in case there are one of two of you who do; Amy is an incredibly talented fabric and pattern designer and she also is the author of several hugely popular craft and design titles. Known for her friendly and clear pattern writing, Amy has helped make sewing hip and accessible to a whole new generation of sewists and her gorgeous fabric designs have a huge and loyal fan base. However, for all of her all talent and success Amy remains very warm, helpful, and generous to work with. Amy lives and works Ohio with her husband David, and her two beloved cats Pete & Birdie. In our interview Amy shares with us her experiences of starting up and running her own Craft Business.
I hope you enjoy the interview. The picture captions are all Amy's words.
.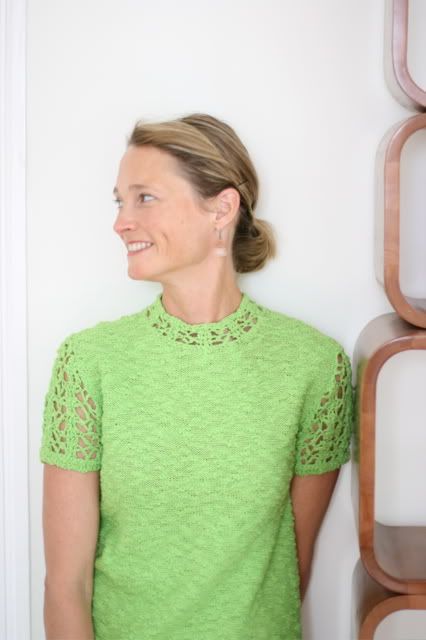 "I'm sporting a vintage find from my favorite clothing store "Foot Loose" here in Granville. The color is delicious. "
.
CraftBoom!: How long have you been in craft business?
Amy: 8 years.
.
CraftBoom!: Where/how do you sell your items, and do you work from home?
Amy: I have a wonderful group of retailers and distributors who sell my fabric and sewing patterns as well as my paper crafts with K & CO.
My pattern business has grown and grown! We've literally run out of space in the lower level of my house. It was getting a bit tricky reaching over the cat boxes to secure batting for a quilt project! Everyone was patient, but we finally found the perfect home for Amy Butler Design. We rent a beautiful 1850s greek revival house in the heart of our village. It's a 10 minute walk or 5 minute bike ride from my home. We moved my business in July and it's been a terrific change for all of us. I still keep my home studio as does Dave. It provides me the time to concentrate on designing and stay focused.
.
CraftBoom!: What made/inspired you to go into craft business, and what were you doing before?
Amy: I've crafted all my life, it's something I've always loved doing for myself and I've always enjoyed making things for my friends and family. My business in craft started through my efforts as a contributing editor for Country Living magazine. I had designed and manufactured 2 sewing patterns and sold them through the magazine for a couple of years to accompany the " how to " stories I produced using my fabric collection. At that point I didn't realize that I would turn the patterns into a business, I thought my sewing patterns would be a side project to compliment my illustration career. ( little did I know! )
After a couple of years, the magazine ended their fulfillment service and I was left with a strong demand for my patterns but no way to get them to customers. I researched avenues for marketing and selling my patterns. I asked several quilt shops and fabric stores where they would go to purchase patterns and similar products and they suggested I exhibit at the International Quilt Market. I rented my first 10 ' x 10 ' booth and ever since then everything has fallen into place.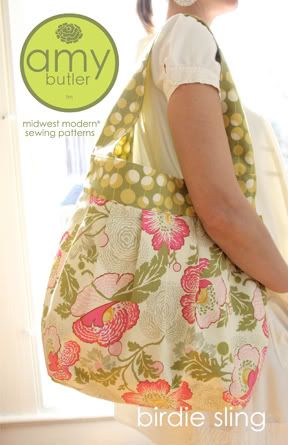 "The Birdie Sling is a great beginner project." New pattern available soon
David and I have had our Art of the Midwest studio since 1992. Our business started out of necessity because we wanted to move back to Ohio to be with our families. Prior to our move home I was a creative director at Hallmark Cards for their paper entertaining products and Dave was an art director at River City Studios. When we moved home and started our studio we each did a lot of different jobs to make ends meet. Dave did freelance graphic work and I picked apples and painted surface designs that I sold through an ex- Hallmark friend.We had one vehicle and Dave needed that to get into the city while the only job I could get in walking distance in the country was at the local orchard! At night I painted and sewed.
Over time Dave wrangled me into doing drawings / illustrations for his projects and we ended up doing a lot of fine art exhibits together and my confidence in illustration grew. Through the years that followed we built up a graphic design and product development business where we built product collections and the marketing support for various brands. All the while both Dave and I had secured a national illustration rep and I began to do illustration full time. We began buying and renovating homes and getting heavily into gardening. That's about the time we met Country Living and we started producing freelance lifestyle stories for them around 1997.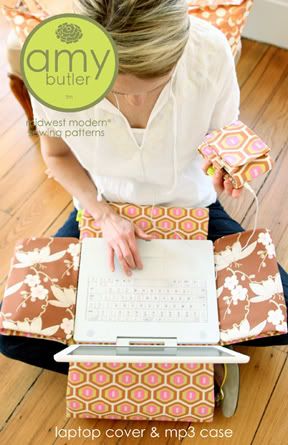 "
"The customisable Laptop Case is very simple and super functional. I love using mine. The audiophile in me had to have an mp3 case too." New pattern available soon.
Every life and working experience has led me to each step that I needed to take to find the career piece that truly makes me happy. For me, my road started 20 years ago in art school and I've been in graduate school ever since! I always encourage everyone to respect and appreciate all of your experiences. You begin to learn more about yourself and how to make yourself happy. You learn to trust your instincts and follow your passions confidently.
.
CraftBoom!: How did you finance the start-up of your business?
Amy: We started with the money in our pockets when we moved from Kansas City back to Ohio. I believe we had $ 1,000. We squeaked by month by month for a couple of years as we slowly built up our resources. There was one instance when we had to borrow money from Dave's Mom Vert. We were strapped and didn't have the $400 to fill the propane tank! She loaned us $ 4,000 to help us cover our bills for 2 months and we paid her back $ 5,ooo a year later! We've always been a cash business and we used our sweat equity and talents to continually reinvest in the studio. A greater percentage of all the money we made and still make goes back into the business. It's always served us well.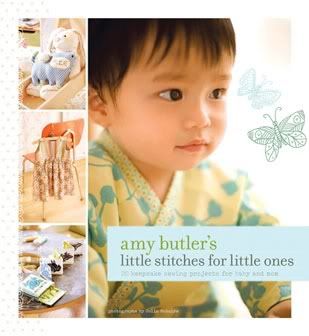 "This is the cover for my NEW sewing book " Little Stitches for Little Ones "with Chronicle! The little fella on the cover is sporting the kimono style PJs project. Little Stitches will be available in September 08. It's chocked full of fun projects for Mom and baby 0-12 mos."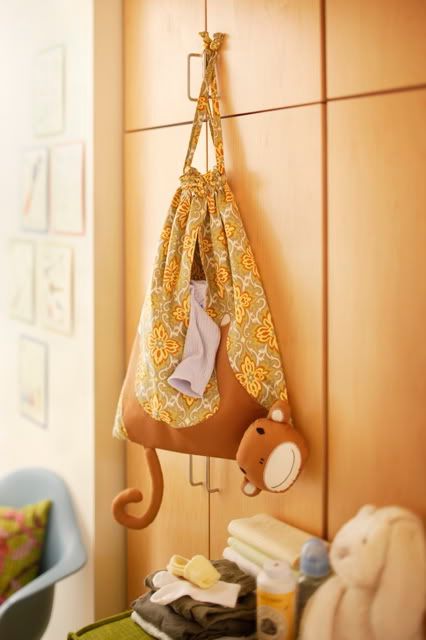 "Cheeky Monkey Laundry / or Diaper keeper. Cute- cute!"
.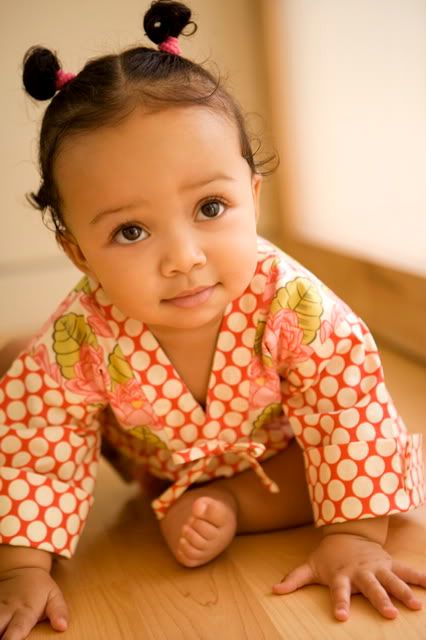 "This is a wonderful dress and cute bottoms set. Super easy to make!"
.
CraftBoom!: What things do you do to market your business?
Amy: The avenues for marketing my business have evolved over time. One element never changes and that's our drive for putting ourselves out there. Dave helps me with all of my promotional materials. He does my photography and designs my collateral. We're a great design duo. I love making every piece of my business sing. Every detail matters, especially how I share my products with others.
The internet had been a huge component in the growth of my business. The web site is an incredible tool for me. It's a great platform for sharing my brand story and my products as they develop. It's most important because it's an incredible vehicle for inspiring others and making a connection with folks who enjoy craft as much as I do. Another huge component in marketing my business has been exhibiting at an industry trade show. The international quilt market has been pivotal in the making connections with my retailers and their customers. It's been a very powerful vehicle for promotion. There's nothing better than meeting your retailers and getting the opportunity to share my products with them. No one promotes you, better than YOU!
I've had some incredible press opportunities that have helped me find my audience and have helped me get to know my community. From the get go, I've tried my best to be helpful and work alongside editors in both trade and consumer magazines. My experiences over the years have given me a few advantages in terms of working with magazines an editors. It's that one thing leads to the next scenario again! Staying in the flow of things and paying attention to opportunities that are a fit is key.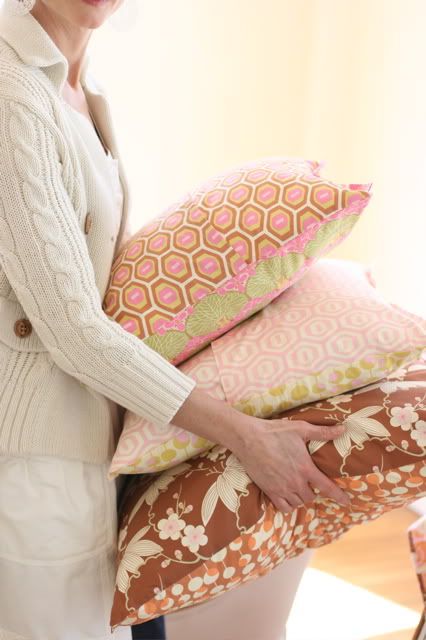 "These images are from my new promotional pieces for my fabric and pattern launches. Dave and I worked on these together for Quilt Market initially and we'll be able to incorporate them on our web site soon. Midwest Modern is my new quilting weight fabric and August Fields is my new home dec collection (Jul 08). I'm also super excited about releasing my ' solids' lines for both home dec and quilting fabric!"
.
CraftBoom!: What things do you know now that you wish you knew from the beginning?
Amy: I don't really have anything that I'd change. I think my experiences have all been positive whether they be challenging or not. I've needed to go through them in order to grow and learn. You have to experience everything first hand to make the best, most educated decisions. Sometimes you hit the mark and sometimes you don't. That's part of doing business and it keeps things interesting! I've made plenty of mistakes, but I feel they happen for a reason so that I can learn to make better decisions in the future and become a better person. Struggles help define who you are, build character and help you appreciate your life. Through the process, though, I have learned that it is important to let go and not take things too seriously or stretch yourself too thin. Save time for yourself to nurture your creativity. If you fulfill yourself, you'll have lots more to give to everyone else… giving is the best part!
.
CraftBoom!: What do you love most about running your own craft business, and what do you like least?
Amy: As far as my studio and business goes, I love the creative freedom I have in both working for myself and working on products that allow me to explore my passions and share them with others. The most challenging aspect for me has been balancing creative time with business.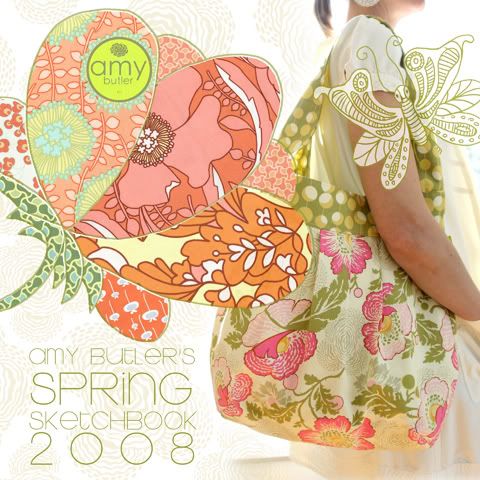 "A promotional piece for my fabric and pattern launches."
.
CraftBoom!: What advice would you give to newbies who want to start their own craft business?
Amy: The first step is to focus in on one or two projects / products that you feel strongly about, projects that you feel you have a passion for. Often these jewels are right in your lap, just look around your studio and pay attention to what you spend most of your time on. Then make up actual samples or prototypes and share them with friends and family to get their feedback, take it a step further and show your product to local shops. There are blogs like U-Handbag's blog that support creative communities where you can share your projects with other like minded folks, swap ideas and build a network.
Try starting out by creating a simple on line shop like an etsy or ebay store. This is a great way get an immediate response and to start to establish a strong customer base. If you are interested in selling your products wholesale, it would be helpful to research wholesale trade shows and find a market that fits your products, search for a sales rep or set up a booth yourself. I found that exhibiting at a major wholesale show made all the difference in the world as far as getting exposure and meeting retailers and distributors who would potentially sell my patterns. You also receive the most bang for your buck in terms of expense. Trade shows are an investment, but truly the best way to get the most exposure for the minimum cost. These shows also expose you to loads of resources and it's a great way to meet peers in your industry whom you can swap ideas with.
Everyone has their own unique way of approaching their business. However, know that whatever you decide to do is just right for you and that's the most important thing to remember. There is no black and white way for sure, so much of how I have built my business is by trial and error and trusting my instincts. I think that every experience you have is valuable and you learn so much as you go. Being true to yourself will naturally establish your unique voice. That's the biggest piece of advice I can give you. Don't be afraid to be yourself. Everything will fall into place and evolve naturally. Be consistent from how your products look and feel all the way to your web site, advertising and marketing material. Everything you do should feel consistent in every way.
Set about your goal, don't worry about set backs, focus on only the things you can control, don't worry about people who dissuade you or don't understand you…move on to the next! Be honest in EVERYTHING you do and you'll never have to worry about yourself or your business. And if it stops being fun, do something else, even if it's for a short respite. With your passion and creativity, you can make anything happen. It's really true. You can have all the talent in the world, but if you lack passion, confidence and drive
the road to a fulfilling creative life is short. It's all about loving what you do.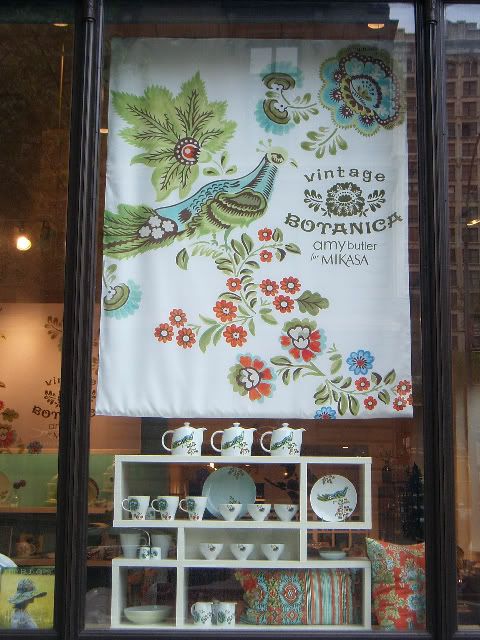 "This is my window at the Mikasa showroom on Madison Avenue in NYC! I just launched my first tableware collection with Mikasa two weeks ago during the Tabletop market. It was an incredible experience! The entire line will be available this fall."
.
CraftBoom!: Are you satisfied with the income that your craft business brings?
Amy: Yes, it's been incredible to watch our business grow! For David and I our focus has always been about creating and the cash has followed. We've always known that we'd be ok and all the funds we need will be in place. With this in mind we've tried to make sound financial decisions and respect our resources, not take them for granted. From the get go we always believed in what we were doing and our faith and responsibility has never failed us. Seriously, if you build it, they will come. It's that sincere affirmation and conscientious decision making that will always support you.
.
CraftBoom!: What are your plans for future growth?
Amy: I don't have any long term goals in what I want to achieve specifically. I want to grow conscientiously while I'm building relationships with other companies to crossover into other design and product categories. I'd love to see this grow as well as my core business focus, my patterns and fabrics with Rowan . I want to keep designing, enjoying and sharing the process, and along the way continue to evolve sustainability in the products I make or work with.
.
Thank you so much for your interesting and informative interview Amy. It's so obvious that put a lot of love into what you do and that has been a big factor in making your business grow. Best of luck with everything that you do. We're very much looking forward to your August visit to Twisted Thread in the UK. Woo! Amy's visiting the UK la la la! 🙂