Not long ago I received an email from Myam who had an interesting question; she wanted to know how I went about naming my products and patterns in my shop. She asked: "Is it enough to describe what the thing (toy, dress, bag, etc) is for? Is this process actually easy…" she went to say: "In my case, I have designed bags and I'm stumped on the names to give them. I have this idea to name them after my favorite fiction characters. For instance, I would have "Pippi's Thing-Finding Bag" or "Contrary Mary's Gardening Bag." Is this a wise idea…?
Personally I think those names are pretty cool, but the quick answer to Myam's question is that it really depends on the flavour of her shop. The bag names are cute, girly, and charming, so if Myam's products are whimsical and charming, as is her website than, yes the names are quite suitable. That's the quick answer, but there are a few other things worth considering when naming our craft products and that's I'm going to look at in this post. Getting your product names right is actually quite important for increasing your sales, especially on the web (more about that later). Before I start have a look at one of my bags and then have a quick look at the home page of my shop (note how it looks, and note the names of a few of the other products).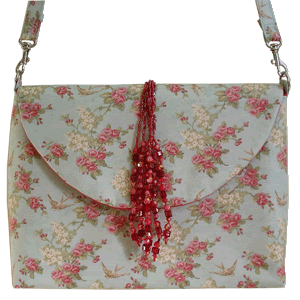 This is a bag that I made last year; it got sold real quick 🙂
.
Before I tell you the name of the bag, I'll list some DOs and DON'TS that I applied when naming my bag:
DO:
make part the title of your product somewhat descriptive of your item – this can be the function, the shape, or the material used etc. in the item. For instance: ……….clutch bag, …………candelabra, …………….choker necklace, ………………shawl, Mohair…………, etc. This helps the customer to quickly identify what the product is best suited for. As humans we usually feel happier and more positive towards something when we have an understanding of it; we are more likely to move on to the next thing if we don't.
make part of the title of your product suit the flavour of your shop – this can be the era in which your items take inspiration from (vintage, punk, 70's disco etc.), or the craft trend/process (zakka, felting, paper craft). For instance: Debbie's disco baby……, Aunt Emma's…….., Fluffy felted……. Naming your items in this way will make them more distinctive to your own shop and will make your items easier to understand.
bear in mind the age of the customer that you want to attract. I know it's very tempting to want to try and please everyone, but as any business studies text will tell you this just isn't possible (whole books have been written on the subject of segmenting your market, I'll try and cover this in another post because it's important). So for instance if you think that the main bulk of your customers are cash strapped students you would price your items according to their budgets and the same goes for your product names, you would make them appeal to the cash strapped students!
use a touch of humor, but only if it suits and best not to over do it. I used a bit of humor in the name of this craft item because the part of description had some humor in it too. If you can make your customer chuckle (with you!) it's a good thing because they are more likely to have positive feelings toward your products.
use other moods/feelings such as charm, solemnity, fun, dreamyness, etc. if it suits the flavour of your products and shop. For instance if you sold ceramics inspired by nature, or burlesque inspired accessories, or vintage textiles have a little fun and make that clear in your product names. It will add add cohesiveness to your collection of items, it will help customers understand your products, and it will make your shop 'look tidy'.
**UPDATE** Laura kindly sent in this important tip : "If you're going to use names of characters from literature, you need to make sure that the stories are old enough that they're no longer copyrighted. You wouldn't want to end up getting sued by a writer or writer's estate. (I am not a lawyer; obviously check with one if you've got a specific concern.)"
be consistent with all of your names. Whichever rules you use with your product names try to apply those rules to all of your products.
.
Don't
make your product names non-descriptive. I don't think names like "Hannah Bag", "Black and White Mountain Print", or "Wool Scarf" are very helpful to customers. Names like these don't really grab you, they don't help the customer understand the product, and they evoke no emotion either (ideally you want you customer to experience positive feelings to your products). Yes, the customer could just read more about your product in the product description, but remember when searching for items on the web you don't always get to see product descriptions. In a web search what you are presented with its the title of the item, so if the title doesn't grab you, you aren't likely to click on the search… So do you see that if a customer was searching for "Shoulder bag" on Etsy, or Google, the name "Hannah Bag" becomes pretty helpful. What are the chances that someone would be looking for a "Hannah Bag" in a search unless they knew about you because you are a famous bag designer already (your day will come, along with mine hopefully!)
make your titles too long. Whilst being descriptive, they should still be punchy and to the point.
.
and now back to my bag… I called it "Old Romantic Shoulder/Clutch" because:
The fabric was romantic looking vintage inspired fabric, the fabric looks both old and romantic. "Old Romantic" is a play on words. I was hoping that customers would like the play on words and that the title would evoke feelings of gentle romance, summer strolls, and girly clothes…
I put 'Shoulder/clutch' in the title because that is intended use of the bag, and straight away you get a sense of how large the bag is without having to read the measurements (anything that helps a customer to quickly understand a item is a good thing).
Juicy Craft Reads
Do you name your craft items using any of these methods? How do you name your craft items? 🙂