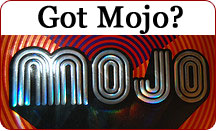 I don't know about you, but when I lose my mojo my life is not good! What's this "mojo" thing I speak of? According to Wikipedia, "The word mojo traces its origins to Congo, Africa (from moyo, meaning 'soul' or 'life-force')." That's close to how I define what my mojo is.
I first heard of mojo when I saw the Austin Powers movie in which his mojo was stolen by the bad guys. Like Austin Powers, a lot of men relate their mojo to sex. Not me. Well, maybe once but I was still in college AND did lose part of my mojo. In this instance I had lost my dating mojo and was on a dry spell for a long time. Have no fear, I finally got it back and met the woman of my dreams: My Wife.
Notice how I said "part" of my mojo. I see my mojo as being an overall positivity producing energy. It has it's own smaller parts, i.e. sex mojo, health mojo, work mojo, and so on. While I have not experienced 100% mojoness (just made that up in case you were wondering), I have been close. I find it very hard to balance having all aspects of my life in full mojo nirvana. Please tell me your secret if you have! While one's mojo can have smaller parts, I believe that there are a few crucial mojos that you must maintain in order to keep sane.
So what are some of those important mojos? I will only list a few, for each person has to prioritize their mojos. My main mojos are family, health, and work. These mojos then have their sub-mojos. Wow, what am I even saying here, sub mojos? I never thought I would be writing about my mojo, or sub mojos for that matter. Anyway, moving on. It's easier to maintain your mojo if you break them down into parts. This way you aren't overwhelmed with having to maintain this big positive energy force. It's also common for sub mojos to influence other sub mojos.
Does any of this make sense? Any sense? It should because whether you call it mojo or not, this positive energy I speak of is a very important part of living a happy life. Happy being what YOU want it to be, not what life dictates itself to be. A lot of people get stuck in the rut and often lose themselves. I know I have. Have you? Without my mojo I don't know what I would do. Actually, I do. I would be miserable, depressed, sad… Get it? Good.
For the past few years of my life I had lost my health mojo, mentally and physically suffering because of it. Not only that but it had a negative impact on other parts of my life. Now that I have been working on getting my health mojo back, my family, and work mojo are seeing the results too.
How do you maintain or get your mojo back if you lost it? Pretty simple, do things that bring positivity to your life. I'm going to walk you through what I do to maintain my mojo in my next post.
Until then, peace and be safe!
Israel Lagares is a father, husband, son, and brother. In addition, Israel is a Fat Man Unleashed, which happens to be the name of his weight loss blog where he is sharing the process of his healthy weight loss.
Knowing a thing or two about health, Israel has also created Health Ranker – the #1 social media health news site dedicated to bringing you the latest health news and health-related information.